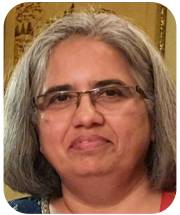 Ms. Shubha Joshi
Ms. Shubha Joshi, is serving as non-executive director of Balsam Academy since 2017. She has completed her MSc from Karnataka University, Dharwad, Karnataka, India, in the year 1990 and an MS from the University of Houston, Clearlake, USA, in the year 1994. She also has B.Ed. from Bangalore University, Bangalore, India, completed in 2009.
Shubha is interested in Waldorf-inspired teacher education. She has completed ...certificate courses in Waldorf Teacher Training and Creative Teacher Training. She is passionate about making education simple, local, natural, balanced, fear-free, integrated, collaborative, and engaging. Her goal is to put these principles into practice to transform the education system. She loves to mentor aspiring learners, teachers, and extend support in organization development. In her free time, she enjoys self-development, Redikall Healing, biographical counseling, painting, and traveling.

Her experience of over 10 years as a Quality Assurance Engineer at Welcom Software in the USA (1995-2005) followed by 17+ years as a Teacher Educator and Facilitator across various schools in pan India has helped her blend the requirements of the corporate world with the education system. She also served as Principal at a reputed school in Bangalore for 5 years before taking over the position of Non-Executive Director at Balsam Academy in 2017.

Her purpose in life is to work with individuals to help them understand themselves and therefore others through spiritual and psychological tools, in an easy, effortless, and fun way that enhances their potential. She strongly believes that recognizing one's blocks is the key to revival and healing.